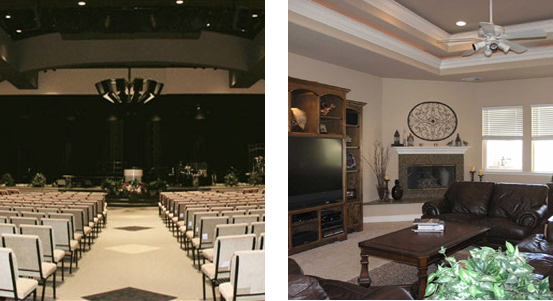 BREAKING NEWS!
Jeff Klus and his company, Copper Loop Assistive Listening Devices, recently took part in the installation of the first ever hearing loop system for the Bay Area Rapid Transit @ their Fremont, CA BART Station. This system is now available for use by those wearing hearing aids equipped with a T-coil antenna (most modern hearing aids have these) or cochlear implants. This hearing loop system enables those with t-coiled equipped hearing aids to clearly hear public address announcements without interference from background noise and train noise on both the train platform and at the station booth.

It's important to give BART positive feedback if you have a chance to use this loop so BART will continue with this process at all of their other BART stations.
Hearing Loop Systems
Providing clarity of sound with Audio Frequency Hearing Loop Systems
In the home
Expect to listen to crystal clear music and watching TV that does not sound garbled or muted. Watch shows and games with family and friends and hear what they are hearing.
In commercial and institutional settings
Enhance the experience of attendees using hear aids through the delivery of clear sound.
Expect greater attendance and more interaction from those who previously were prevented from wholly participating by hearing loss.
Expect shorter processing times when using the loop system at information and ticket processing centers.
We service the following counties in Northern California:  Alameda County, Alpine County, Amador, Butte, Calaveras, Colusa, Contra Costa, Eldorado, Glenn, Humbolt, Lake, Lassen, Marin, Mendocino, Napa, Nevada, Placer, Plumas, Sacramento, San Francisco, San Joaquin, San Mateo, Santa Clara, Santa Cruz, Shasta, Sierra, Solano, Sonoma, Stanislaus, Sutter, Tehema, Trinity, Yuba, Yolo
We install Hearing Loop Systems in
Northern California!
Audio Frequency Hearing Loop Systems
Why Hearing Loop systems? A hearing loop system, typically installed on the floor around the periphery of a room, is a thin strand of copper wire radiating electromagnetic  signals that can be picked up by a tiny receiver already built into most hearing aids and cochlear implants. When the receiver is turned on, the hearing aid receives only the sounds coming directly from the microphone, not the background cacophony.
Copper Loop Assistive Listening Devices
aspires to be a leader in both residential and commercial hearing loop services. We will install hearing loops in churches, synagogues, temples, theaters, town halls, senior centers, schools and many other venues. We provide residential installation services for most counties in Northern California. We provide commercial installation services state and nationwide.